Spectrum Shadow w/ Light to Sound Sythesis, 2012
collaboration with James Cordas.
Wood, latex paint, 9 strobe lights,
custom electronics, wireless receiver,
two speaker monitors
Dimensions variable

Installation view at Liminal Space, Oakland. Audio is produced in realtime
by a synth that converts light frequency input from strobes into an audio frequency output.


Open Screen Unit, 2011
Installation view - Johansson Projects Enamel on aluminum, mesh, plastic,
DVD loop, Projector
135cm x 135 x 135cm

Collaboration with Matthew Draving
Reproduction, Destruction,
Connection, 2011
Installation view, MacArthur B. Arthur, Oakland, CA

This piece was part of a group show called _run off in which all the works were multiples and free. The Xerox corporation was started the same year as a major earthquake struck and destroyed most of San Francisco. The piece says "XEROX 1906" very small in the bottom center, inferring a connection between reproduction and destruction. The "x" formed by folding the paper over and coating it with oil is a play on the Xerox logo.
Double Shadow, 2011
Wood, plexiglas, acrylic paint, 2 DVD loops, 2 DVD players and 2 TV monitors
127cm X 101cm X 71cm
New VHS Formalism studies, 2011

Gerhard's Müller Behind Plastic, 2011
Graphite on paper, mounted on panel
104cm x 75.5cm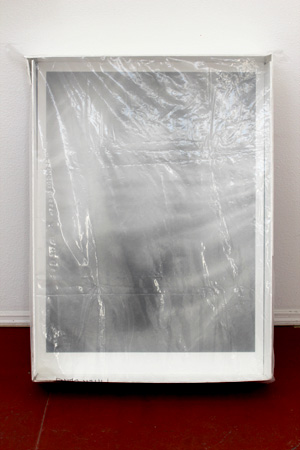 Gerhard's Müller Behind Plastic, behind plastic
Degaussing a Clock, 2011
Single channel video
Duration 00:47

A performance using a battery operated clock and a degausser.
Counter Art, 2011
Proximity sensor, computer monitor, custom software, plywood
90.96cm X 45cm X 45cm

Counter Art attempted to count the number of times it was viewed. It added a number every time the infra red beam was broken. Shadows and reflections could break the beam as well as viewers. The piece became somewhat of a clock for the show it was a part of, counting disruptions instead of seconds.

Degausser, 2011
Installation view at
The Popular Workshop, SF
50 VHS cassette tapes, 4 magnetic data erasers (degaussers), VCR, TV, plywood
108cm X 162.5cm X 40.6cm

When a degausser is placed over the VCR as a VHS tape plays, the image and audio are erased and distorted in real time. As information is wiped and rearranged on the tapes, interesting wobbly distortions, discolorations and frame overlaps occur. The distortions are permanent. The piece was set up so that the viewer had the option of degaussing a tape of their choice.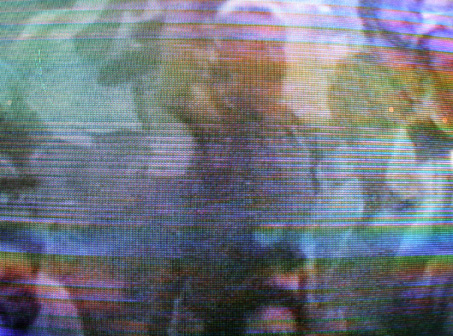 Video stills taken while degaussing
Gung Ho, Garth Brooks, Terminator and The Shining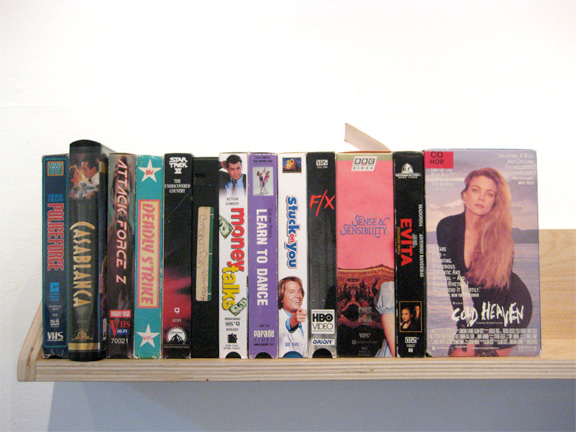 Sword in the Stone Degauss, 2011
Single chanel video
Duration 1:55

The degaussed version of Walt Disny's 1963 animated film The Sword in The Stone, edited by DRONE DUNGEON. Look for a collection of all 50 videos out in 2012.
/
Magnetic Field Obscuration
Study, 2011
Ink jet print, acrylic enamel
on plexi glass
11 1/2" x 9"


A New Refutation of Time (Post Flip), 2011
Counter clockwise clock
8 3/4 inch diameter


Magnetic Field Study Enlarged
20 Times, 2011
Installation views at
The Popular Workshop, SF
Graphite on wall
6.09m x 12.2m


Large Erasure with Documentation, 2011
Erased powdered graphite on wall, DVD,
DVD player and projector
1:13:00 [loop], 188cm x 250cm

It took approximately one hour and 13 minutes to erase a 188cm by 250cm section of wall that had been covered in powdered graphite. The process was documented and the video was then projected in nearly perfect registration onto the erased section of wall. The smudgy gesture left from erasing and the video projection obscured each other while fully revealing what had taken place.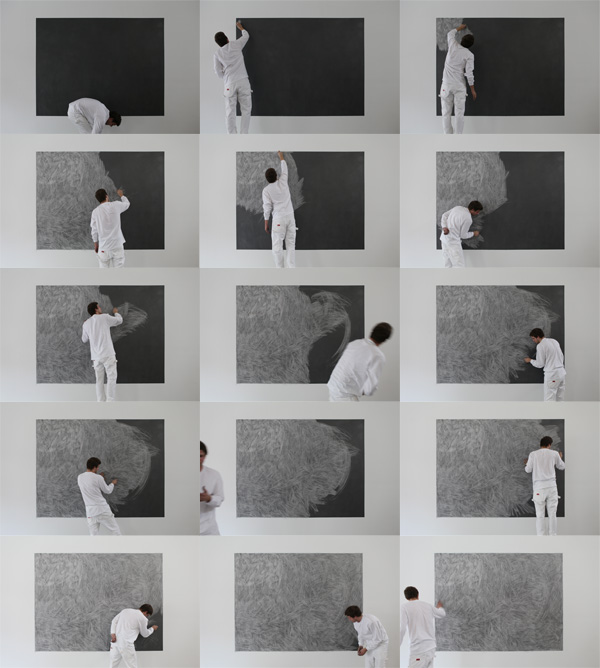 Artwork or Workart (15 Paycheck
Stubs for Bruce Conner), 2011
15 2010 paycheck stubs from
Atthowe Fine Art Services
15 5/8" x 22 1/2"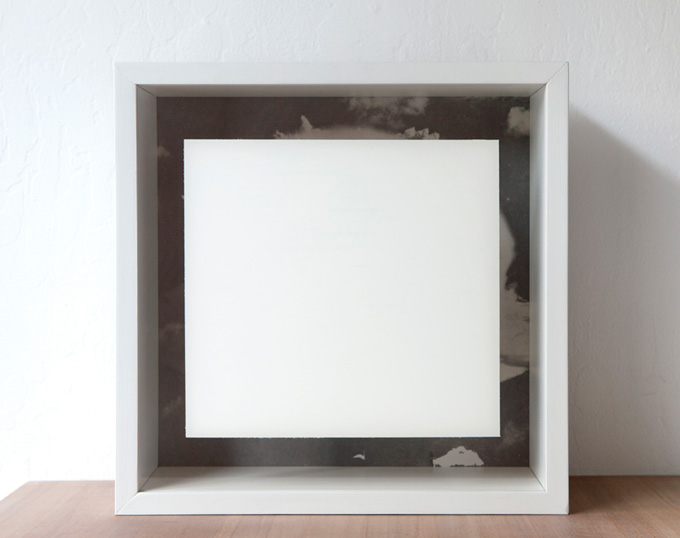 Negation, 2011
Found print and enamel on plexi glass
15 1/8" x 15 1/8" x 5 1/2"


White T-Shirt (Richard Prince
Version), 2011
Silkscreen ink on cotton T-shirt
size large. Edition of 3
Prince DeKooning Degauss, 2011
Single channel video
Duration 00:54


DeFeo Re-revisited, 2010
Single channel video
Loop

A video of a painting by R.H. Quateman
of a photograph by Jay DeFeo, rotated
to orient the piece horizontally.
1989: No Mind in Things
or I Think I Lost My Mind, 2010
Single channel video
Duration 02:27

Documentation of looking at a reproduction of David Ireland's 1989 piece No Mind in Things, while listening to 1989 - "I think I lost my mind," by the Spits.
/
Back to top
/
old website (more art)